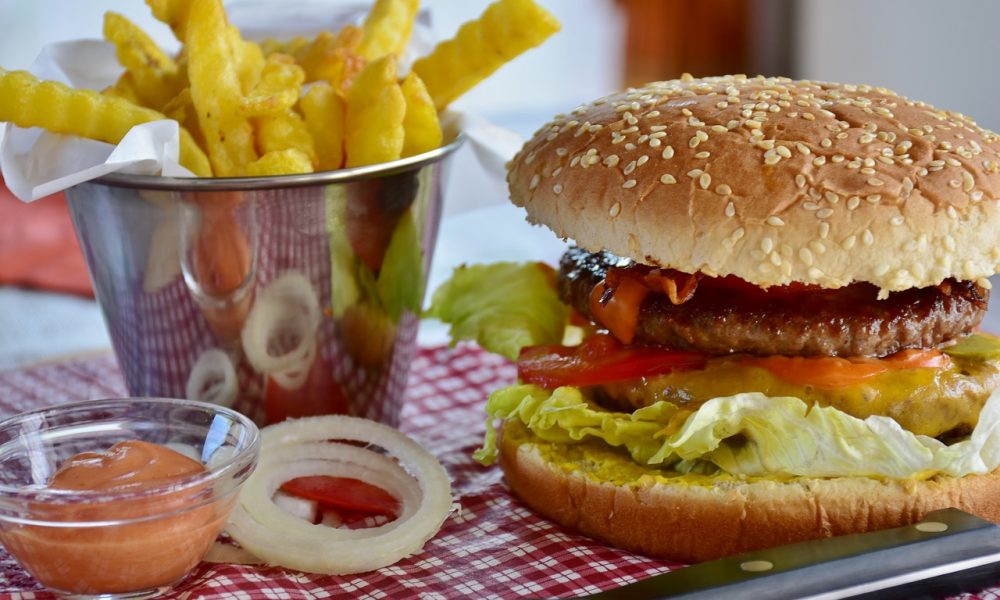 Many people probably order the kosher style hot dog at Five Guys in the belief that it's safer to eat than, say, the hot dogs sold by ambulant vendors in New York City. The idea that kosher foods is safer, healthier and better non-kosher foods is also taking hold despite the higher prices. Surprisingly, only a small percentage, about 8%, of people on a kosher diet are religious Jews!  
But is kosher food really safer, healthier and better than non-kosher food? While kosher food is produced according to strict religious dietary laws under rabbinical supervision and in specialized facilities, it may or may not be so. Let's take a look at the facts and fiction surrounding kosher food.
The Salting Process Makes Meat Safer
The salting process in the preparation of kosher food involves the use of kosher salt in the removal of the blood from the flesh. The claim is that it kills salmonella and other bacteria that cause diseases in humans.
Is there truth to it? The answer is no for many reasons. Yes, salt has antibacterial effects but it isn't a powerful antibacterial substance. While it aids in meat preservation, it doesn't prevent bacteria buildup in food.
This is true even for kosher salt, a type of salt with larger grains than regular table salt, which means it stick to the carcass' surface for a longer period. In a study published in Poultry Science (2012), salting significantly decreased microbe level in poultry; the microbes included generic E. coli. In another study published in the Journal of Food Safety, salting and rinsing decreased salmonella bacteria on chicken.
But here's the deal: Salting is neither a pasteurization nor a sterilization process. Proper handling of meat is still a must to prevent food poisoning, whether the meat was salted with regular or kosher salt. There's also the matter of high salt consumption that increases the risk for a wide range of diseases.
The Greater Number of Inspections Makes Food Safer
Arguably, kosher foods undergo more food safety inspections than non-kosher food. Kosher inspectors ensure that the strict religious laws are followed, and they do so through random inspections and unannounced visits to the production facilities. These laws include the strict separation of meats and dairy products as well as the accurate labeling of products, even checking the animals for signs of illnesses.
But here's the thing about kosher inspections: These aren't designed for food safety and, in fact, these aren't in full compliance with the food safety standards imposed by government regulatory agencies. This means that kosher food isn't actually safer than non-kosher food.
There's Reduced Risk from Mad Cow Disease

Many people on a kosher diet think that they are less exposed to mad cow disease. This is supposedly because the slaughter methods used in kosher food preparation, particularly the prohibition on the use of stun guns, prevent brain tissue from spreading to other parts of the cow. Brain tissue is where most of the prions, the infectious agent, is located.

But the CDC and FDA have asserted that there have been no cases of the human version of mad cow disease, known as Creutzfeldt-Jakob disease (a wasting disorder), in the United States because of infected American beef. In other words, there's little to no risk of getting Creutzfeldt-Jakob disease from eating non-kosher beef for as long as it was prepared according to prevailing food safety standards.

The bottom line: Kosher food isn't necessarily safer, healthier and better in quality than non-kosher food! You must still ensure that kosher food is prepared and cooked according to current food safety standards. You may want to ask the restaurant manager, for example, about its kosher practices including where it sources its kosher food.

Furthermore, kosher food isn't automatically natural and organic, unless the label says so. Many of these kosher foods also contain just as much salt or sugar, fats and calories, and other unhealthy ingredients as non-kosher foods.

There's also the matter of kosher foods not automatically being produced more humanely than non-kosher foods. Many critics say that certain kosher practices, such as the avoidance of stun guns and the cutting of the throat, are stressful and cruel. The animals may also be raised in cramped conditions with little to no ventilation, a clear violation of humane animal production.

What does this all mean? While the kosher label and symbol are a welcome sight for kosher food enthusiasts, these aren't guarantees of safety. You, the consumer, should store, handle and prepare kosher foods like you would with non-kosher foods, even in a fast-food restaurant like Five Guys.

These food safety measures include cooking poultry and meat to proper temperatures, refrigerating perishable food within two hours, and separating cooked and raw foods as a preventive measure against cross-contamination. The more careful you are, the better for your health and safety – and it has little to do with the food being labeled kosher.

<!-comments-button-->