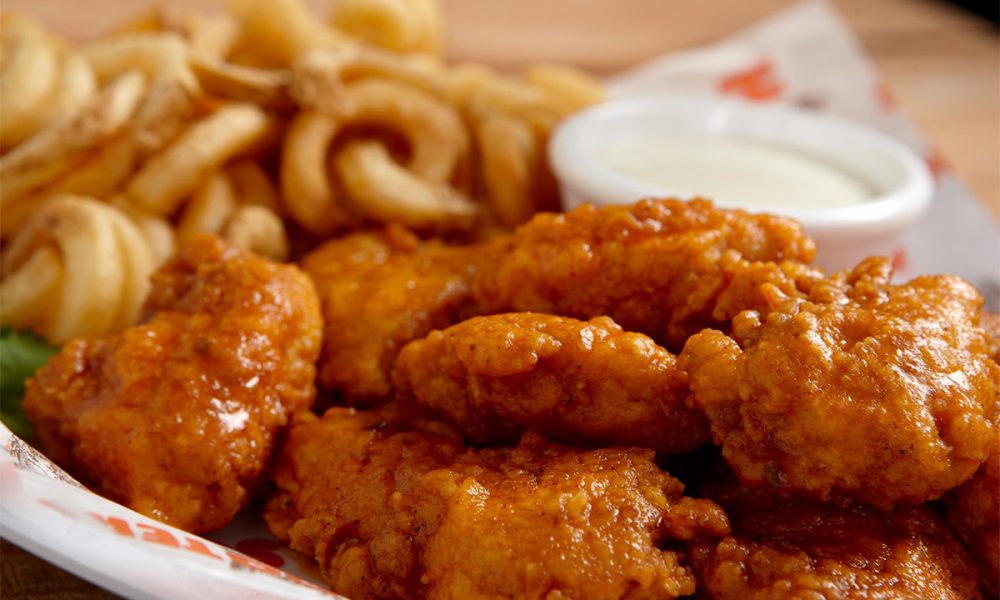 The Wing House and Hooters chains of restaurants both take pride in the scrumptious flavors of its chicken wings, sides and salads, and burgers, as well as in their attractive servers, sports-centric entertainment, and full bar. Thus, making the choice between the two chains usually boils down to your own personal preferences in chicken wings, ambiance, and services, perhaps even the girls.
But what exactly is a chicken wing, also known as a Buffalo wing among fans of Wing House and Hooters? Buffalo wings are un-breaded chicken wings that have been deep-fried before being coated – drenched, in many restaurants – with a sauce before serving. The common ingredients in the sauce include vinegar, cayenne pepper, and melted butter as well as several spices. Each restaurant has its own line of sauces, which can range from the mildly sweet and spicy to the extra-spicy that can nearly burn the tongue.
Let's take a look at the products and services, particularly the servers, ambiance, and entertainment, offered in the Wing House and Hooters restaurants.
The Menus
The Wing House chain was founded on made-to-order, delicious-to-the-last-bite juicy chicken wings, a tradition that it continues to this day – and its Buffalo wings have, in fact, been voted as the best by prestigious industry publications. The chicken wings come in four different varieties, namely:
The Original Chicken Wings with a light breading for added crispiness in the skin
The Char-Grilled Wings, which have been marinated for several hours before grilling complete with a basting of barbecue sauce for more complex flavors
The Buffalo Chicken Wings have been deep-fried and served with sauce
The Naked Wings have been de-skinned and marinated before frying (i.e., no breading, too) so it's considered a healthier option
Choosing a favorite from among the four chicken wing versions can be challenging because everything just seems so good in the mouth. You may prefer the Original Chicken Wings for its crispier skin, for example, while your partner prefers the Char-Grilled Wings for its smoky barbecue flavors.
But no chicken wing is complete without the sauce and the Wing House chain offers 19 – and counting – different sauces. Each sauce adds another flavor dimension to the dish so you can experiment with the combos, such as The Original Chicken Wings with Sweet Thai Chili. The sauce options include House on Fore, Dallas, Garlic Parmesan, and Exxxtreme.
The Hooters chain has more than 420 locations across the United States and overseas so getting your share of Hooters chicken wings should be easy. The number of choices in chicken wings and their sauces are more limited than in Wing House but it isn't such a big issue for many reasons. You will find that quantity in the menu isn't necessarily the measure of a restaurant's desirability – it's the quality of the food and Hooters delivers.
The chicken wings are available in breaded and naked (i.e., without skin and breading) versions. The sauces include Mild, Medium, and Hot as well as 3 Mile Island, Spicy Garlic, Samurai, Cajuan, BBQ, Parmesan Garlic, and Lemon Pepper. You can lick your fingers clean of the delectable sauces and you won't be judged by your fellow diners for it – because they're likely doing it, too!
Both chains also offer other items on their menus. There are sides like French fries and onion rings, as well as salads, sandwiches and burgers. The full bar, which offer a wide range of beer, wines, and spirits, is also a come-on attraction for the restaurants.
The Services

The chains also have attractive, attentive and friendly female servers known as the Hooter Girls and the WingHouse Girls. As soon as you enter any of the restaurants, you will be greeted by these girls in their skimpy attire. Your dining experience will be made more enjoyable because you're surrounded by beautiful people who greet the customers, serve the orders, and ask about how they're doing so far.

The Wing House and Hooter chains also feature several large-screen, high-definition televisions spread across their restaurants' dining areas. The televisions usually show favorite sports including wrestling, boxing, football, basketball, and mixed martial arts – whatever the most popular sports event at the time will likely be shown. The restaurants are typically filled with sports fans who want to watch the shows while enjoying good food and good company – think of it as the camaraderie of sports fans in a restaurant setting.

The noise level ranges from average to loud depending on the sports season, too. You should be prepared for a louder atmosphere when the Super Bowl or the NBA championship games are on but it becomes quieter on normal days.

Between Wing House and Hooters, you will find a casual ambiance with groups of young professionals, businessmen, and families as well as couples enjoying the food and drinks. Your craving for an ice-cold bottle of beer with chicken wings drenched in delicious sauce will be satisfied in either of the chains' restaurants.

<!-comments-button-->