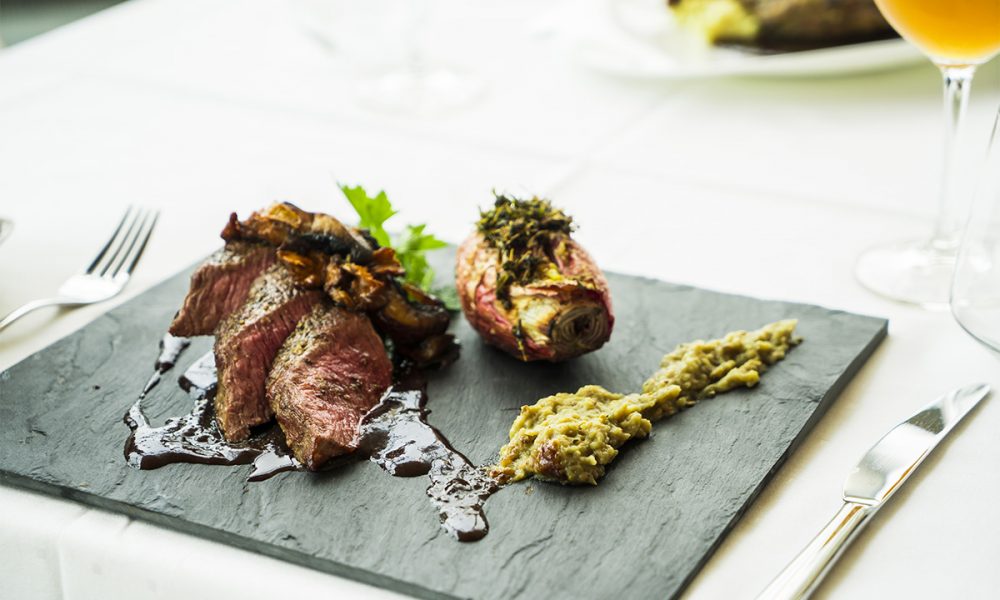 Food presentation is as important as the freshness and flavor of the food! Just ask the diners and chefs at fine dining restaurants like Ruth's Chris Steakhouse and you will find that everybody's in agreement on this matter for good reasons. As creatures with a higher sense of consciousness, we eat with our eyes as much as we eat with our mouths.
Setting Expectations on a Plate
When a dish or dessert is placed before you, your first step will likely be to look at it for a few seconds, perhaps even turn the plate a little so you can admire it from a better angle. You will admire the bold and bright colors of the vegetables, the perfect char on the grilled meat, and the rich quality of the sauce, if you ordered the steak dinner. You may also admire the creamy smoothness of a panna cotta with a topping of luscious sliced strawberries.
Even before you take your first bite, you have eaten the food with your eyes! You are setting expectations that the steak dinner will be delicious with its juicy, flavorful and tender meat combined with the creaminess of the mashed potatoes and crispiness of the baby carrots. Your panna cotta will be heavenly with its rich, creamy, melt-in-your-mouth quality.
And it's exactly what chefs do when they place your food on a plate – set expectations. The visual display increases your sense of anticipation for the scrumptious feast ahead and sets in motion your physical responses. Your mouth water and your stomach sends the signal of being hungry, while your body increases the flow of pancreatic and gastric juices in readiness for digestion.
Chefs then take great pains in preparing food that will be as visually appealing as it is delicious in the mouth. Every element from the ingredients to the plate will be carefully considered so that customers are getting edible art on a plate – or glass and bowl, for that matter.
Science Has Proof
This isn't just a matter of art, however, as scientific studies have shown that people will pay more for their food and enjoy their food more when it's presented beautifully. Even the taste will be affected – dishes presented well in beautiful plates are often perceived as tasting better than those served in plain plates, even when identical ingredients have been used.
Ferran Adrià even showed that the color of the crockery used affected the perception of flavor! In an experiment, the same type of dessert was served on a white plate and a black plate. The dessert served on a white plate was considered to be 10% sweeter, 15% more intense, and 10% more likable than the identical dessert served on a black plate. The flavors are, of course, the same but the brain was tricked into believing that the dessert on a white plate was better in nearly every way.
But it isn't just the black-and-white extremes that matter in food presentation and perception. Brown and blue plates aren't commonly used in restaurants because these colors can suppress the appetite, as well as have a negative effect on the perception of taste and flavor. Many restaurants prefer vibrant colors, such as red, instead for this reason.
And then there's also the fact that dirty plates – or even just the perception that the plates are dirty – will have an adverse effect on the eyes and, subsequently, on the appetite. The best restaurants take pains to ensure that their plates, glasses and other dining utensils are as clean, even pristine, as can be.
Senses Are Involved

For chefs, food presentation is an art form itself and, thus, it involves all the senses, not just the sense of sight and taste. The food should ideally tell a story, encourage an emotion, and even bring on a good memory from the first time it's presented on a plate until it's swallowed. This may be a tall order but the best chefs, such as Gordon Ramsay, are known for such an admirable talent.

Every ingredient on a dish or dessert was likely chosen for its form, texture and color, as well as in the way that it will blend or highlight the other ingredients. The culinary arts isn't just about the study of cooking and it shows in the plating of the food.

Of course, the process and preparation involved in cooking the food are just as important since these aspects will determine the flavors, textures and colors of the food. The plating is the cherry on the sundae, if you will, as well as the way in which the chef expressed his or her personality.

So the next time you're in a restaurant, take the time to admire the plating on the food – the chefs spent time and energy on making your food as beautiful on your eyes as it is delicious in your mouth and healthy for your body.

<!-comments-button-->