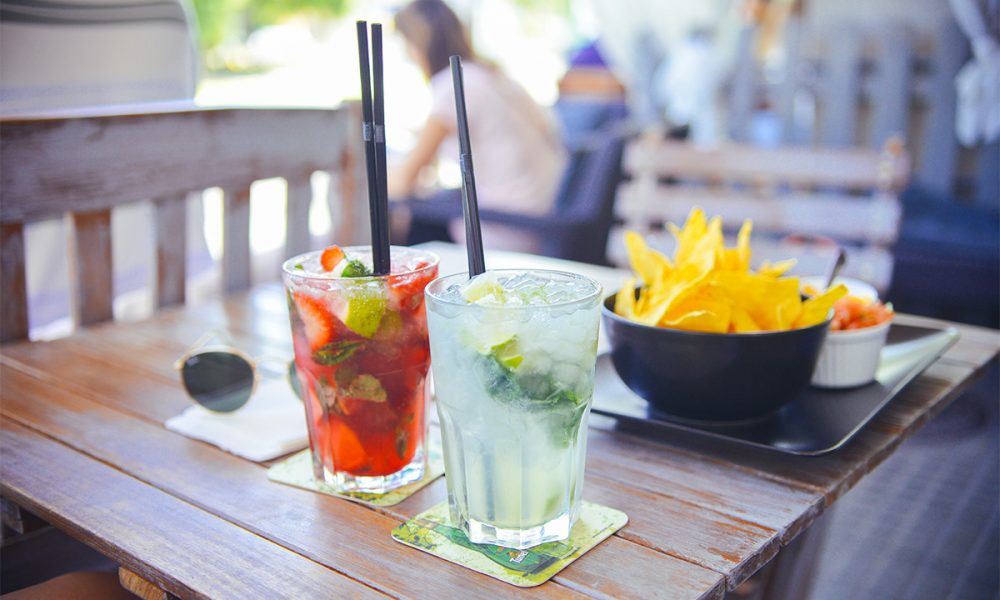 Day drinking is totally different from night drinking! While both involve alcoholic drinks, the preparation from the food to the mindset are totally different.  So before hitting the nearest Bar Louie location, be sure to acquaint yourself with the dynamics of day drinking and survive it, perhaps a few times a week, if you're into it.
Focus on the Food First
The easy part in day drinking is the drinking, as is the case for night drinking.  The hard part is the eating – and you will realize it when you have had too many glasses of cocktails or too many bottles of wine, and your body wants to expel everything but only bile comes out.
Keep in mind that proper eating before, during and after day drinking will be the anchor that will keep you grounded in many ways. Food is a must when you're drinking alcohol because it aids in preventing a kickass headache the day after, not to mention that it keeps you feeling full so you can limit your drinks. Food is also a great way to enhance the flavors of alcoholic drinks so you get a total sensual experience.
But don't indulge in food either. A light meal and snack will suffice during your lunch and mid-afternoon schedule.  You don't want to skip on the food, too, because alcohol has a way of eating into the lining of your stomach. You don't want to deal with hyperacidity and the like after a few months of day drinking on an empty stomach.
Start After Brunch
If you want to get the best of day drinking, you should ideally start at brunch. At this time, you can eat your brunch and drink your cocktail, all in one sitting. This is the reason why casino buffet restaurants are making a killing with their brunch buffets – people who woke up late after an all-nighter at the casino want food for their bodies and booze to wake up their still-sleepy brains.
Besides, there's something so Hollywoodesque glamorous about drinking cocktails at brunch, just as rich people are wont to do.  But whatever you do during brunch, never ever participate in a bottomless booze activity. You will regret it in the afternoon when the buzz has taken over your body and your stomach just wants to eject everything.
And since we already established that the right food is a must during day drinking, be sure to eat regular breakfast food during your brunch. Your best choices are eggs and bacon with potatoes, the right combo of protein, fat and carbs to start your day. You may be tempted to eat your fill of Tex-Mex food or a triple cheeseburger with French fries and milkshake but the toilet may well become your station during the next few hours. It isn't conducive to day drinking, as a matter of fact.
As for the drinks during brunch, you should limit the number of your drinks to just two cocktails. But never take shots because while it may be impressive for a while, it will not be to your benefit later on.
Come During Happy Hour
There's a reason it's called happy hour – the generous discounts on the booze will make the inner alcohol-loving person in you happier than a clam. You can bring a few of your friends and treat them to a round, or perhaps several rounds, of beers or cocktails, whatever floats your boat.

But to make happy hour work to your benefit, you should also practice moderate drinking.  You want to enjoy the company of your friends, meet new people, and share a laugh with people, all while still having your wits firmly on your head.  You also don't want to be reckless with your spending because the alcohol got to your head.

And since you're in a bar with all these drinks, your next question will be: "What should I eat?" Nothing at all except when there are peanuts, preferably free, offered by the bartender. But ask for a new bowl if you intend to stay long because the old bowl sitting on the bar will likely have one too many people dipping their dirty fingers into it.  You can never be too sure what goes into your stomach, peanuts with alcohol included.

If you're in a bar with an outdoor area, then you may want to consider drinking al fresco. The warmth of the sunshine, the beauty of the place, and the people passing by will add to your enjoyable drinking experience. Day drinking, if you come to think about it, should involve all your five senses so take advantage of whatever opportunity will come your way in this regard.

Most important in day drinking, keep your drinks in your stomach, not in your head, as well as never drink and drive, even when it's still daylight. An hour or two of fun isn't worth a life lost.

<!-comments-button-->