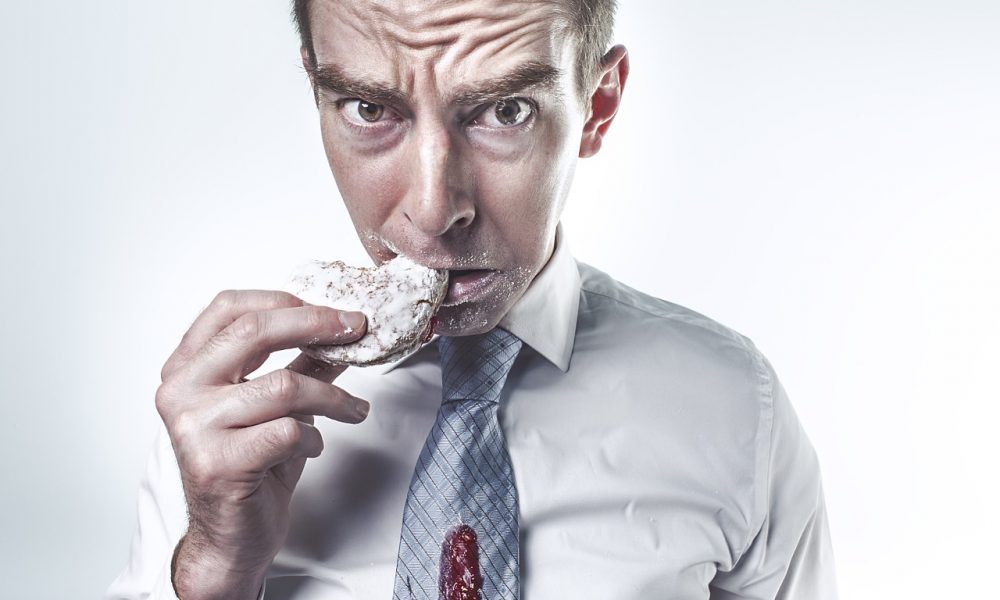 We all know someone who gets so irritable when they're hungry. They lash out irrationally at whoever's nearby when their tummy starts to rumble. It's not a rare phenomenon as there really are folks who just can't process their emotions well anymore when their stomachs are rumbling. Sometimes it's someone else, sometimes, it's you. Whatever the case is, hangry people are everywhere.
'Hanger' or being 'hangry' refers to the negative feelings a person exhibits when they start feeling hunger pangs. It's a portmanteau of the words 'hunger' or 'hungry' and 'anger' or 'angry'. It's a rather funny play on words, just don't crack it around someone who's actually experiencing hanger.
Science proves that your mood can really be affected by your hunger, so that should quickly explain why people get so crabby when they haven't eaten in a while. Some people can even get aggressive or impulsive, leaving them regretting a number of actions after their appetite has been sated.
Despite these, some folks are still not sold on the idea that some people can get very hungry that they temporarily lose their control over their feelings. Some even accuse others of using the phenomenon as an excuse for their bad behavior. This is why it might be wise to take a closer look at being hangry.
Hangry vs. Hungry
First off, let's start with differentiating 'hanger' and hunger apart. It's normal to crave and long for specific food items especially when in between meals. That's just hunger. It might even be normal that you start feeling mildly upset when your hunger pangs start to kick in.
However, when your negative emotions are already high enough for you to lash out, then that's 'hanger'. If you're already getting crabby and pouncing on others because your stomach is calling for some food, you're getting 'hangry'. It's not that hard to tell them apart since hanger often comes with a certain amount of aggression.
The Science Behind Being Hangry
What makes you 'hangry'? According to experts, your blood sugar levels are the main triggers of this behavior. When you get hungry, your blood sugar levels drop. In response, your body will release the hormones epinephrine and cortisol to try to raise it back to its normal levels.
Unfortunately, both hormones can cause irritability. Cortisol is also known as the stress hormone so a spike in the amount of it on your bloodstream will certainly affect your mood negatively. It will increase your blood sugar levels but in exchange, it will also sour your mood a little.
Epinephrine, also known as adrenaline, is also helpful in giving you a boost in blood sugar levels and energy when your hunger kicks in. However, if that energy doesn't go anywhere, you'll be left restless and irritable instead.
The feeling of hunger itself can also impact your mood negatively. The hormone Neuropeptide Y is released to make you feel hungry to signal your brain that your body needs food. Unfortunately, this brain chemical also triggers aggressive behavior which can explain why some folks are very crabby when hungry.
With these, it's quite safe to say that being hangry isn't just some excuse to be horrible when you want food. The irritability, aggression, and snappiness are all caused by your brain chemicals and tummy rumbling.
What to Do When Hangry

Being irritable will never put you in other people's good graces. It doesn't matter if it's a natural biological response to certain triggers; if you have a foul mood, it's highly likely that others will not find you a delightful companion.

If you dine out when you're hangry, you might even receive the ire of the people who work in the restaurant you're eating at. They know you're hungry – that's the most likely reason why you're in their establishment, so throwing a fit or being snarky to the folks who are just doing their jobs wouldn't be appreciated. You'll only make their already stressful work environment a lot worse.

If you don't want to become that horrible person when hungry, you should learn how to control your hanger. Experts recommend healthy snacking.

Eating the right things in between meals will help you stave off hunger in between meals without increasing your calorie and sugar consumption significantly. Healthy snacks like veggies, yogurt, and fruits are highly recommended as they're healthy, filling, and aren't packed with empty calories.

Eating 3 healthy and balanced meals during the day will also help keep hunger and the freakouts at bay. Consuming full meals is ideal as they can keep you full for much longer.

If you still find yourself getting hungry without instant access to food, make sure to avoid emotionally or mentally taxing tasks until you can whip something up or head to a nearby IHOP. Such things can trigger an act of aggression that you will surely regret later on. So just stay away from them when you're already starting to feel cranky and hungry.

<!-comments-button-->