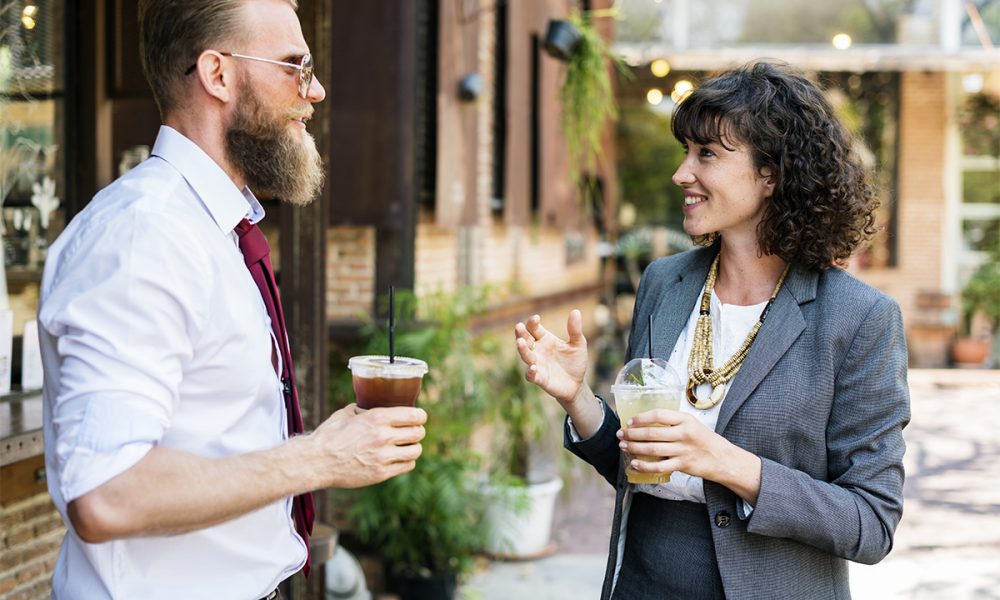 Small talk is anything but small! Indeed, it has a huge impact on the first impression other people will have of you, and we know the importance of first impressions – they last, if you still don't know it.
But making small talk can be challenging for the shy person, more so for the socially anxious individual. This is all-too-true when you're in a singles' bar like TGI Fridays where single men and women enjoy each other's company while keeping their main goal – find a date, perhaps even a roll in the hay – in mind. Your small talk skills will be put to the test in these social situations!
Are you anxious or worried yet? Well, you shouldn't be! You can learn the art of the small talk and it starts here.
Get Rid of Your Limiting Beliefs
Each one of us has his or her own set of limiting beliefs that restrict us in what we can and cannot do, even in what we will and will not do. Your limiting beliefs are obviously negative perceptions of yourself including your knowledge and skills, your abilities and capacities, and your personality. Even when you want to do something, you can't because your limiting beliefs prevent you from doing so.
Your limiting beliefs may include:
"I am not good enough for this person."
 "He is out of my league so I will not approach him."
"I won't know what to say to this person because I don't have the knowledge, skills and/or experience to carry on a conversation."
"I will only embarrass myself because I'm just a lowly employee."
You have to psyche yourself up so that your limiting beliefs don't dictate your thoughts, words and actions anymore! You can take the following steps:
Change the voices in your head, so to speak, by changing your limiting beliefs to enabling beliefs. Instead of telling yourself, "I am not capable enough to carry on a conversation with another person", change it to, "I am capable and I will initiate the conversation".
Use meditation and mindfulness techniques to activate your enabling thoughts. Meditation allows for a centering of the self that, in turn, encourages the person to see his/her worth. Mindfulness strengthens the capacity to appreciate one's self and to be in the present, and it's important to be in the present when it comes to small talk since you can't let the fears of the past and future get in the way.
Yes, it will take time and effort (i.e., plenty of practice) for your limiting beliefs to be eliminated and your enabling thoughts to take their place. But it's important since your enabling thoughts will become the basis for your confidence in initiating and maintaining small talk in any social situation.
Get Started on Approaching the Person
Just do it! You won't get started on small talk until and unless you actually approach the other person and engage him/her in a conversation. You shouldn't let your fears of past failures and fear of future consequences become your stumbling block each time you attempt small talk.
But don't just approach the other person without being prepared.
Make sure that you're actually presentable. When you're in a singles' bar, you don't have to be in your Sunday's best but you should be in clean clothes, as well as look and smell clean. Nobody likes to be approached by a hobo in a sea of clean-cut people!
Catch the eye of the person you want to approach and then give him/her a sincere smile. You want to establish rapport as early as possible and there's nothing like a genuine smile to start it off.
Adopt an open body language. Keep your arms by your side, your shoulders relaxed, and your body in an open posture – no crossing of arms, no placing your hands behind your back. You want the other person to feel comfortable, perhaps to mimic your open body language; mimicking is a form of acceptance between people engaged in conversation.
Keep your approach easy and simple. Skip the cheesy pick-up lines since you don't want to appear perverted or fall flat on your face, so to speak. You can just say, "Hello! I'm Sam. I noticed that you're new here. May I buy you a drink?"
Be sure to make your introductions, of course, but keep it to your name. You shouldn't brag about your education, job and wealth when making small talk unless you want to be a first-class jerk. You can also offer assistance on the TGI Fridays menu or give a short statement about your favorite drink.

Once you have made your approach, you will likely have an easier time sustaining small talk for the next half-hour or so. Just be sure to talk about pleasant topics like adventure, travel and current events while also avoiding controversial topics like religion, politics, and sex.

<!-comments-button-->