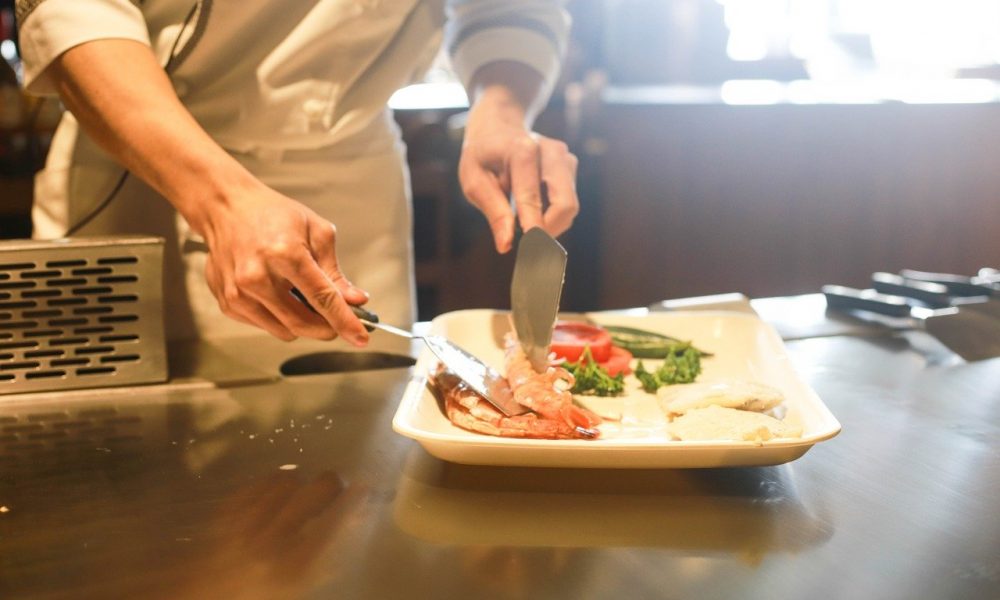 Good food, good wine, good service. Yes, all of these aspects are crucial for a good dining experience, whether you're in a fine dining restaurant like French Laundry for dinner or a fast casual restaurant like IHOP for breakfast. But when you're seated in the worst seat of the house, these things become secondary, quickly. 
This brings us to the question: What exactly is the best seat in the house? As with most things in life, the best answer is: It depends, particularly on what restaurant you're in and what your dining objectives are for that moment.
But first, what's the worst seat in the house? No question about it on this point – the seats closest to the wait station, the bathroom, and the door, especially the kitchen door, are the worst, ever. These are the tables where the foot traffic is so high you won't be able to eat your meal in peace without people constantly brushing up against you.
The Chef's Table
Yes, we know the advice of nearly everybody from David Change to the Wall Street Journal about the bar being the best seat in the house and, thus, the best place for a great dining experience. The bartenders are more likely to be friendlier, the menu items wider because of the addition of the bar menu, and the wait is shorter, if there's even a waiting time.
But if you're looking for a better seat, you will find it at the chef's table. Even the experts at the National Restaurant Association agrees that a seat at the chef's table means being in the best of both worlds, so to speak, so it's a coveted position.
What is the chef's table? It's the counter-style dining area located directly in front of the kitchen but not beside the door where the waiters go in and out of the kitchen. Here, you will find that dining becomes fun!
You will be treated to an exciting behind-the scenes look at the culinary wizardry happening in the kitchen, an experience akin to being part of the near-magical process of preparing your food. You will also likely be visited by the chefs who will stay for a few minutes to ask about the dish, perhaps even make small talk and talk about their passion for cooking. Your dining experience then becomes less about grabbing a bite and more about socialization.
Getting a seat at the chef's table isn't easy, however, since it's obviously a coveted seat. You have to reserve the chef's table, either by calling via phone or making online reservations (i.e., Resy and OpenTable come to mind). You may have to wait for a few days, perhaps a few weeks, before you can score it but once you do, you will likely find the experience to be well worth the wait.
The Power Table

The chef's table, however, is far from the action due to its location away from the main dining room. It isn't the best place to see and be seen, a common objective among people who want to establish their social status and to watch people.

In this case, the best seat in the house is the so-called power table, a place that every fine dining restaurant will have because, well, it is de riguer. It's the place where wealth and power can be asserted, in more ways than one, and where guests can be the center of attraction, if that's the goal.

The definition and location of a power table changes from one restaurant to the next. But there are common traits between power tables in fine dining restaurants.

First, it isn't in the middle of the room. If it is, then people will walk around it more often than desired so the meal becomes disrupted one too many times. Thus, it can be set against the wall or a booth where people aren't likely to pass by around it.

Second, it usually has a full view of the floor. This is in line with the see and be seen goal, regardless of the reason for it. For this reason, it will likely be elevated, perhaps on a dais or a slightly raised stage, as if the table is for royalty.

Third, it's always a round table. This way, there's no issue about who sits at the head of the table and everybody on the table can be given equal attention.

In some cases, the power table can have more lights, albeit discreet, than the rest of the table. All the more reason to be able to see the room while also being seen, thanks to a virtual spotlight.

Again, you have to reserve the power table in a fine dining restaurant. When doing so, you should remember the keywords to getting it: Deference and discretion, even when you're the most powerful man in the city, perhaps in the country. Keep in mind that many fine dining restaurants can be so exclusive that not even the CEO can get a seat with the snap of his fingers.

<!-comments-button-->